Login or create an account
Close
Returning Customer
I am a returning customer
Login or create an account
Close
Your Account Has Been Created!
Thank you for registering with Alfametric!
You will be notified by e-mail once your account has been activated by the store owner.
If you have ANY questions about the operation of this online shop, please contact the store owner.
Account Logout
You have been logged off your account. It is now safe to leave the computer.
Your shopping cart has been saved, the items inside it will be restored whenever you log back into your account.
BRILLOMETRO INTELIGENTE A 60° AMT503
$800.00USD
BRILLOMETRO INTELIGENTE A 60° AMT503.
COSTO 2018: 800 USD+IVA.
TIEMPO DE ENTREGA SALVO VENTA.
Similar BykGardner de costo elevado ahora tenemos un brillometro con caracteristicas iguales pero con precio bajo y de calidad con 1 año de garantia sobre defectos de fabrica


New Intelligent Brillómetro (60 °)

BGD 514 New Brillómetro Inteligente
◆ Cumplir todos los requisitos estándar global para brillómetro
◆ Una de las claves para obtener el valor de brillo durante la prueba. Diseño de humanismo, ventanas gráficas de usuario intuitiva.
◆ Calibración automática, tablero estándar de cuarzo y no siempre la abrasión
◆ Con la interfaz USB y la función de almacenamiento de tarjeta SD, función de comunicación Bluetooth opcional
◆ Con la pantalla azul de retroiluminación LCD
◆ Con el proceso de datos de PC y software de gestión
◆ Puede almacenar 10.000 datos de prueba: puede ahorrar 100 muestras estándar y cada norma todavía tiene 100 datos del grupo
◆ Puede imprimir el resultado de la prueba mediante la conexión con micro-impresora
◆ Con signos de batería baja y la memoria completa

Cumple con las Normas Internacionales:
ISO 2813, ISO 7668, ASTM C584, ASTM D523, ASTM D1455, ASTM D2457, DIN 67530,JIS Z8741, BS 3900, BS 6161

Main Technical Parameters:
■ Reading Range: 0.0~1,000.0GU
■ Precision:0.1 GU(0~99.9GU);1GU(100~999GU)
■ Data Repeatability: 0.2 GU(0~99.9GU);0.2%(100~999GU)
■ Data Quantitative Repeatability:0.5GU(0~99.9GU);0.5%(100~999GU)
■ Measurement Time:0.5 second
■ Measurement Mode:Sample test mode, Statistic test mode, Continuous test mode and Basic test mode
■ Power Source:① 4-AA alkaline batteries or nickel metal hydride batteries;② DC 5V Power Supply/USB
■ Interface:USB 2.0
■ The size of facula:9×15mm
■ Net Weight:520 g
■ Size:165×60×90mm
Aplicaciones del Ángulo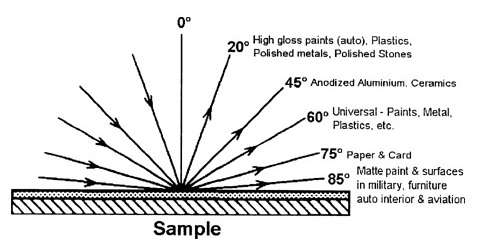 Como elegir tu Brillometro tabla de eleccion:

20° - High gloss surfaces such as automotive paint finish, polished metals and plastics

60° - Universal gloss measurement angle for all applications

85° - Matte surfaces such as automotive interiors, architectural paints and wood finishes

20°/60°/85° - Measure or calibrate all three angles simultaneously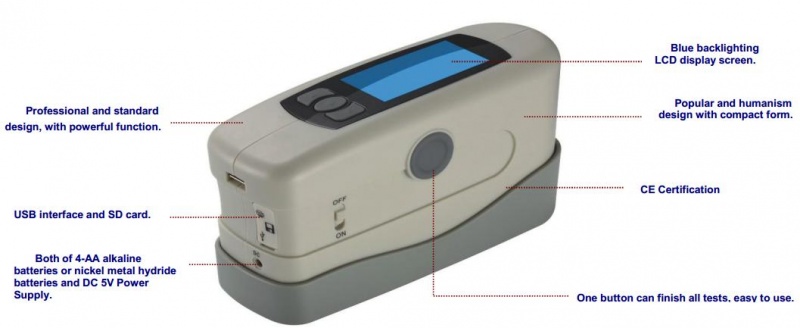 SOFWARE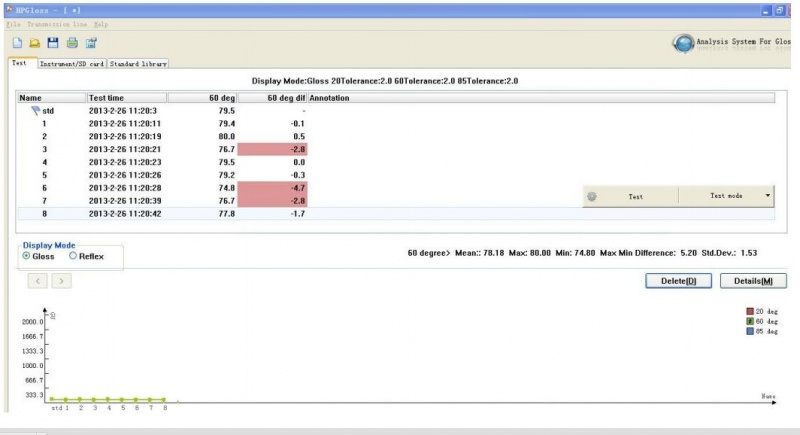 | | |
| --- | --- |
| Numero de Catálogo | Descripción |
| AMT503 | Brillomtero inteligente 60° |
BRILLOMETRO INTELIGENTE A 60° AMT503.
COSTO 2018: 800 USD+IVA.
TIEMPO DE ENTREGA SALVO VENTA.
Similar BykGardner de costo elevado ahora tenemos un brillometro con caracteristicas iguales pero con precio bajo y de calidad con 1 año de garantia sobre defectos de fabrica


New Intelligent Brillómetro (60 °)

BGD 514 New Brillómetro Inteligente
◆ Cumplir todos los requisitos estándar global para brillómetro
◆ Una de las claves para obtener el valor de brillo durante la prueba. Diseño de humanismo, ventanas gráficas de usuario intuitiva.
◆ Calibración automática, tablero estándar de cuarzo y no siempre la abrasión
◆ Con la interfaz USB y la función de almacenamiento de tarjeta SD, función de comunicación Bluetooth opcional
◆ Con la pantalla azul de retroiluminación LCD
◆ Con el proceso de datos de PC y software de gestión
◆ Puede almacenar 10.000 datos de prueba: puede ahorrar 100 muestras estándar y cada norma todavía tiene 100 datos del grupo
◆ Puede imprimir el resultado de la prueba mediante la conexión con micro-impresora
◆ Con signos de batería baja y la memoria completa

Cumple con las Normas Internacionales:
ISO 2813, ISO 7668, ASTM C584, ASTM D523, ASTM D1455, ASTM D2457, DIN 67530,JIS Z8741, BS 3900, BS 6161

Main Technical Parameters:
■ Reading Range: 0.0~1,000.0GU
■ Precision:0.1 GU(0~99.9GU);1GU(100~999GU)
■ Data Repeatability: 0.2 GU(0~99.9GU);0.2%(100~999GU)
■ Data Quantitative Repeatability:0.5GU(0~99.9GU);0.5%(100~999GU)
■ Measurement Time:0.5 second
■ Measurement Mode:Sample test mode, Statistic test mode, Continuous test mode and Basic test mode
■ Power Source:① 4-AA alkaline batteries or nickel metal hydride batteries;② DC 5V Power Supply/USB
■ Interface:USB 2.0
■ The size of facula:9×15mm
■ Net Weight:520 g
■ Size:165×60×90mm
Aplicaciones del Ángulo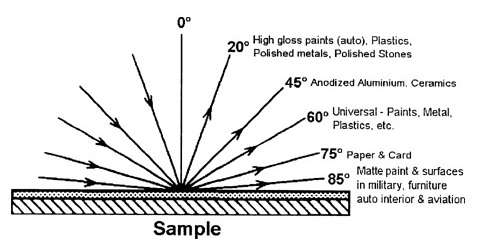 Como elegir tu Brillometro tabla de eleccion:

20° - High gloss surfaces such as automotive paint finish, polished metals and plastics

60° - Universal gloss measurement angle for all applications

85° - Matte surfaces such as automotive interiors, architectural paints and wood finishes

20°/60°/85° - Measure or calibrate all three angles simultaneously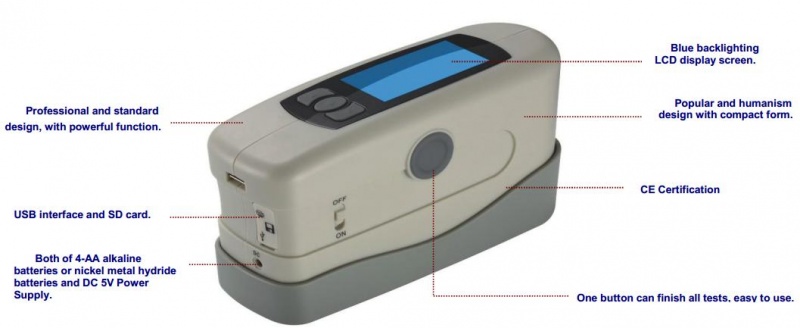 SOFWARE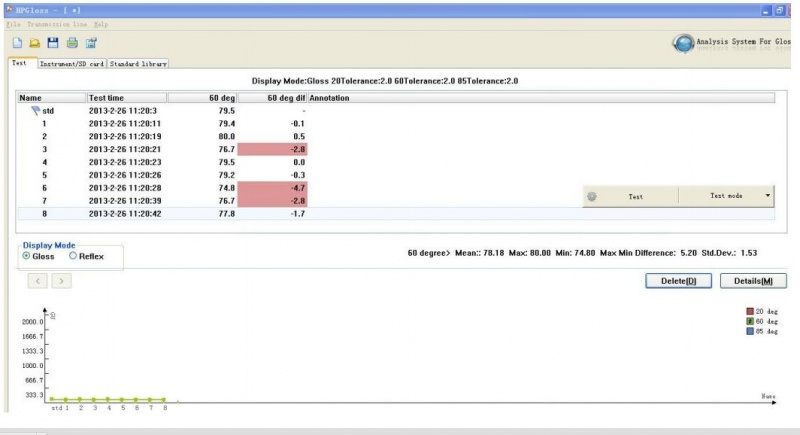 | | |
| --- | --- |
| Numero de Catálogo | Descripción |
| AMT503 | Brillomtero inteligente 60° |